Good day! Story of Bibo.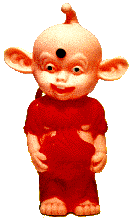 This is an ancient God story and Love story in China. At that time there were two main powers; Snake Devil Woman and power called Sky Devil Religion, who likes drinking people's blood very much. When the solar eclipse is coming is the time Sky Devil come out to control the world... They have a beautiful Phoenix God Woman to protect them against the Sky Devil.
One day, beside the very beautiful pool, there was one handsome young man who sit on a big stone and blowed flute to lead one fire Phoenix to the pool. Then he use cold pool water to extinguish the fire of this Phoenix and suddenly Phoenix change to be a very beautiful girl. Also, this handsome young man aroused one sleeping God Monster called Bibo to be protection God of Phoenix. This God Monster Bibo had slept in the bottom of the pool for over thousands of year. Bibo is a God Monster with intelligence. He has two big eyes, and he knows very well what people want to do. He cannot speak, but only "Bi-Bo." When there is any danger happened, he will speak. The top of his head will light up and his hip will makes many colorful smoke to help him survive because this smoke is very stinking and it can hinder the sight of his enemies.
We love Bibo very much because he always survive by using some funny ways.
---